---

This site covers the Original Osaka Collection which was established in April 1987 and lasted till March 2005. As for the remade Osaka Collection from April 2005, please inquire to the Osaka Chamber of Commerce and Industry at phone number 81-6-6944-6493.
---

- Update: January 25, 2005 -
Enjoy the Poster Collection at Discograhy.
---

Osaka Collection 05S/S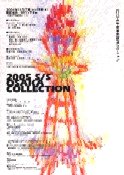 The poster of Osaka Collection 05S/S
Art Director. Takayuki Doi, Do-it.


OSAKA COLLECTION 2005SS was held from November 17 to 18, 2004 at MID Theater. Kansai's famous designer, Hiroko Koshino and new designers at home and abroad participated. All shows were full of buyers and general audience; above all, the ultramodern staging of the designers from U.K. and Korea created a sensation to gather no less than 800 young visitors.

It proves that OSAKA COLLECTION has established the position of one of the most famous fashion events in Japan and Japanese consumers are very interested in fashion in spite of the continuous recession.

Several organizations offered to collaborate with OSAKA COLLECTION to hold related events, such as symposiums and exhibitions at various places other than the main show venue. One of the necessary courses of this event in the future has been suggested.

OSAKA COLLECTION, started by the united efforts of Osaka's governments, economic groups and people in November 1987 with a view "to establish a proper foundation for raising internationally active designers and give them the opportunity to demonstrate the fruits of their energetic work", is attracting the more notice as a unique fashion event in the world.

---
Osaka Collection Report
November 17-18, 2004
Click each photo to look at larger one.


---
Overseas Designers' Joint (2 designers)

qKwak Hyun Joo, Seoulr
Brand : GEESSEN

qJean-Pierre Braganza, Londonr
Brand : JEAN-PIERRE BRAGANZA

---
New Designers' Joint (4 designers)

qYoshiaki Kizuki & Mariko Itami, Osakar
Brand : A*B*C*D*E*F

qNoriyuki Morito, Osakar
Brand : NOMIS

qYuichi Umakoshi, Tokyor
Brand : A VISAGE NATURAL

qAtsushi Kawamura, Keiji Sato, Taeko Ozaki, Osakar
Brand : crossbone

---
Hiroko Koshino

---
Osaka Collection Report(2004/05AW)
April 21-22, 2004
---
Osaka Collection Report(2004SS)
Nov.13 to 14, 2003
---
Osaka Collection Report(2003/04AW)
Apr.24 to 25, 2003
---
Osaka Collection Report(2003SS)
Nov.19 to 21, 2002
---
Osaka Collection Report(2002/03AW)
April 22 to 24, 2002
---
Osaka Collection Report(2002SS)
November 19 to 22, 2001
---
Osaka Collection Report(2001/02AW)
April 24 to 26, 2001


---